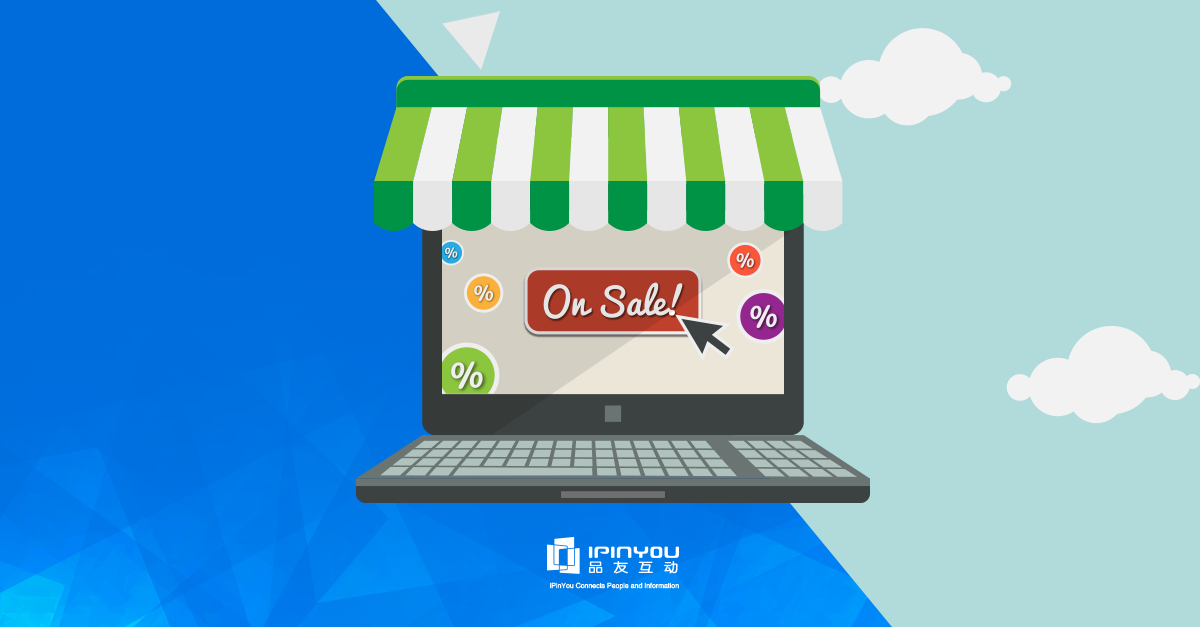 There is no doubt that E-commerce is the most active industry among all the companies that adopted programmatic media buying. With its advanced technology and strong database, programmatic media buying has become the top choice for E-commerce advertisers.
Having served many leading E-commerce brands, iPinYou found that many E-commerce have misunderstandings about programmatic buying, especially Demand-Side Platform. This article summarizes and clears up 5 main misinterpretations about DSP targeting.
1.Still using last click attribution? You are out!
An attribution model is the criteria used to evaluate the performance of each media channel based on consumers' multi-channel user data. For conversion-driven E-commerce advertisers, appropriate attribution is crucial and fundamental.
Most Chinese E-commerce companies are still using the Last Click attribution, which only considers one data point associated with the last action by customers before a purchase transaction. Last Click attribution can be incomprehensive. With Last Click attribution, the contribution of many ad service providers such as impression conversion are often neglected. For example, SEM were given the most credits for sales on JD.com and Tmall.com (Two major E-commerce sites in China) during Single's Day (the biggest E-commerce sales event in China), while many search behaviors were driven by impressions from ad delivery by other platforms.
In the new era of mobile network, the key to E-commerce success is the ability to accurately evaluate the entire user click path and effectiveness of traffic source, and to strategically allocate marketing budget accordingly. One way to achieve this ability is using Multi-Touch attribution.
Multi-Touch attribution evaluates the value of each customer touch point and different media channels based on the conversion results. All customer touch point such as first interaction, social media engagement and last click will be reviewed. This way all marketing channels will be considered, and advertisers can allocate long-term budget according to the effectiveness of different marketing approaches.
2.OMG, pixel implementation steals all your data?!
Pixel implementation is important for DSP optimization as it increases the accuracy of ad delivery. Pixel implementation does not lead to data leakage because DSP has the responsibility and the safety mechanism to ensure data safety. The data is exclusively used to acquire audience browsing behavior, so that suitable optimization approach can be adopted for different types of audience for better conversion results.
According to the analysis of hundreds of E-commerce RTB campaigns in the past two years, iPinYou found that conversion rate increased almost 10 times when retargeting is based on site-wide pixel implementation. Also, the conversion rate of clients with partial pixel implementation is 2 to 3 times higher than no pixel implementation.
To conclude, pixel implementation will not cause leakage of core data. In fact, it allows advertisers identify room for improvements in order to better maximize ROI.
3.Customer is god, in quantity or quality?
What are the factors that set barriers for a successful conversion? These factors are hiding in every step of a transaction, including brand awareness, product attraction (price), creatives, user experience, and ad traffic quality, etc. Since all elements interact with each other, E-commerce marketers need to make comprehensive evaluation when getting unexpected advertising outcomes.
What exactly can we do to increase conversions for E-commerce companies?
iPinYou concluded two key methods: attract high-value customers and reactivate loyal customers. Revenue from the same ad exposure could be higher for high-value customers than regular customers. For example, A is planning to take an 8-day trip to Japan and will stay at a five-star hotel; B is planning to take a 4-day trip to Japan and will stay at a three-star hotel. A is a more valuable customer compared to B. iPinYou's core technology is to help advertisers spot high-value customers as well as to trigger conversion by delivering more ads to them.

The potential revenue that can be generated from loyal customer is huge. However, Chinese E-commerce companies usually spend less than 10%, or even less than 5 % of their budgets on retaining loyal customer. Implementing marketing strategy based on analysis of in-site statistics and overall traffic data of loyal customers is the key to customer retention and conversion. DSP provides big data and retargeting technology for an effective marketing strategy.
4.Deeplink – one click, all done!
Deeplink is a technology with the use of hyperlink that enables customers to reach the product page with one click. This is an effective tool for E-commerce advertisers who relies on mobile advertising to increase conversion. iPinYou implemented both regular ad delivery and Deeplink delivery for a couple of large-scale e-commerce campaigns. Compared to regular ad delivery, Deeplink delivery decreased CPA by 72%, and increased ROI by 3 times.
To summarize, Deeplink tracks customers' series of actions via device ID through ad exposure, clicks and conversions of in-APP advertisements. It also retargets loyal customers on APP by delivering advertisements featuring their favorite products.
5.How to wake up the "sleeping beauty"? Definitely not push notifications…
An increasing number of people are using mobile as their first choice for online shopping. Many mobile E-commerce companies have the perception that a conversion can be made once a customer download their APP. However, 80% of APP users become dormant and only open the APP less than 3 times in total.
Some E-commerce believe that pushing notifications can reactivate dormant users and achieve real conversion. Nevertheless, pushing notifications might not meet the conversion expectations.

According to an article published by Accengage in February 2015, the opt-in rate of push notifications from retail APPs among iOS users is only 37%, which is 9% lower than that of average apps. This low opt-in rate results in a low interaction rate of 2% for retail apps on iOS devices. Even though Android has an automatic opt-in push notifications system, the interaction rate for retail APPs on Android devices is only 10%.

In addition, push notifications can be annoying to many users. Some users choose to turn off the notifications and might even uninstall the app once they get irritated. Meanwhile, other users become indifferent to all irrelevant messages and will subconsciously block the notifications. Even when the notification is valuable to the users, they will still ignore it.
How to activate users effectively? iPinYou provides the solutions in four dimensions-
1.Collect mobile data through data mining, third-party data, online and offline data integration.
2.Target users by matching user's APP and device ID.
3.Leverage programmatic resources by connecting mobile video services, mobile news feed resources, APPs, and hardware vendors.
4.Utilize Deeplink and LBS to direct viewers to a purchase page whenever and wherever they are.
Summary
As China's leading DSP, iPinYou, with its leading retargeting experiences, Deeplink technology, and partnership with third-party tracking companies including AppsFlyer and Tune, can help e-commerce implement a more all-round marketing strategy to achieve the highest conversion possible.